Is your home services business struggling to see results? Have you ever wondered why you may not be seeing a return on investment (ROI) with your marketing efforts? 
We get it, you have a lot going on, and everyone is in a different boat.  You might feel like your business is running smoothly, or maybe you feel like you are downing.  Either way, it is essential to monitor the data that make up your business and tell the true story about the impact that your marketing efforts are having.  Your budget is limited, and you want to ensure you make every dollar count. Collecting valuable data plays a vital role in helping you determine what works and what doesn't when it comes to your marketing efforts. Nothing is worse than spending hundreds or even thousands of dollars on marketing campaigns and not seeing any results. 
Without reporting and tracking the right goals accurately on your campaigns and continually monitoring your efforts, there is no way to tell if you have achieved your ROI. You must understand what actions you want your users to take when they come to your website and be able to track those actions as "goals" that you want to measure your marketing efforts against.
There are many digital tools you can use to track your marketing campaigns. However, Google Tag Manager is an excellent choice because it integrates directly into programs such as Google Analytics to help you track the goals that matter.  The best part...it's FREE!  
This blog will go through everything you need to know about Google Tag Manager and how it can help your business. 
About Google Tag Manager 
Google Tag Manager is a free and often underrated marketing tool for any home services website owner. Google Tag Manager provides the ability to define and track actions or "events" on your website without having to change the code on your website. As a business owner, this benefits you because you can implement this event tracking without the help of a web developer. 
One feature that makes Google Tag Manager appealing to website owners is that you can easily manage your tags through one cohesive interface. Once you have created all of your tracking tags, the system will implement them into your website for you.  You can integrate and manage your data across multiple analytics platforms, such a Google Analytics. 
Tags, Triggers, and Variables
Wow, that sounds complicated, and to be honest, Google Tag Manager, while simple to use, the terminology can sound a bit complicated, but stick with us.  We promise it is worth it for you and your business.  
Before you can begin to utilize Google Tag Manager for your website, you will need to establish tags, triggers, and variables. So let's pause there to explain what the heck tags, triggers, and variables are.
Tags measure traffic to your website and your visitors' specific behaviour. These tags will help you identify the influence of your digital and social marketing campaigns, as well as offer a simple way to reach your target market, leverage remarketing, and experiment to ensure you see an ROI. These tags will help transmit data to marketing tools such as Google Analytics and AdWords. A few common examples of tags used in Google Tag Manager include:
Google Analytics Universal Tracking Code (Sends information to your Google Analytics) 
Adwords Remarketing Code
Adwords Conversion Tracking Code
Heatmaps Tracking Code
Google Pixels 
Triggers detect specific events on your website that cause the tag to fire. Essentially, the triggers on your website act as listeners waiting for events to occur. Here are a few examples of triggers: 
Page Views
Form Submissions
Link Clicks
Button Clicks
For example, if your trigger were form submissions, then the tag would fire and collect data whenever a site visitor fills out a specific form on your website. 
Variables allow us to tie tags and triggers together, providing direction. Variables are the types of actions you can track to create a trigger.  Google Tag Manager has default variables set up such as:
Page visit
Click
Form Submit
And many more.
For triggers, the variable will determine when the trigger should tell the related tag to fire. In the case of tags, variables will choose the precise data the tag needs to collect. 
A container can be used to describe a collection of tags, triggers, and variables. 
While Google Tag Manager is best known for tracking specific actions taken by users on your website, it can also replace the need to implement pixels and tracking codes for every platform you use. For example, you may have had a marketing person in the past ask you to install tracking codes on your website for things like Google Analytics, Google Ads, or other third-party platforms.  With Google Tag Manager, you will no longer have to change any code on your website.  You can instead add the tracking code directly on Google Tag Manager.  
Considerations Before Implementing Google Tag Manager
Before you think about utilizing Google Tag Manager for your home services business, it is crucial to create a strategy and determine who will be managing your account long-term. 
Create a strategy that will outline the management of the system, should one of your employees leave or switch roles. Ensure you understand how to eliminate their credentials while still allowing your business access to the Google Tag Manager account. Here are a couple of options you can use when creating Google Tag Manager accounts for your business: 
Create an administrator account with multiple separate users
Create one master account for everyone in your business to use
If you choose to work with a Marketing company, such as ADHOME Marketing, we can help you create the Google Tag Manager account and add your marketing company or us as a user. 
When setting up your Google Tag Manager, it is a best practice to have one account per website. In other words, if your home services business only has one website, which it probably does, then you will only want to create one account. This is because your Google Tag Manager account is not easily transferable between website domains. 
Setup and Installation Process 
To begin using Google Tag Manager, you will need to create an account separate from an existing Google account you may have. Once you have completed the account, you can pick a name for your account (we recommend using your business name).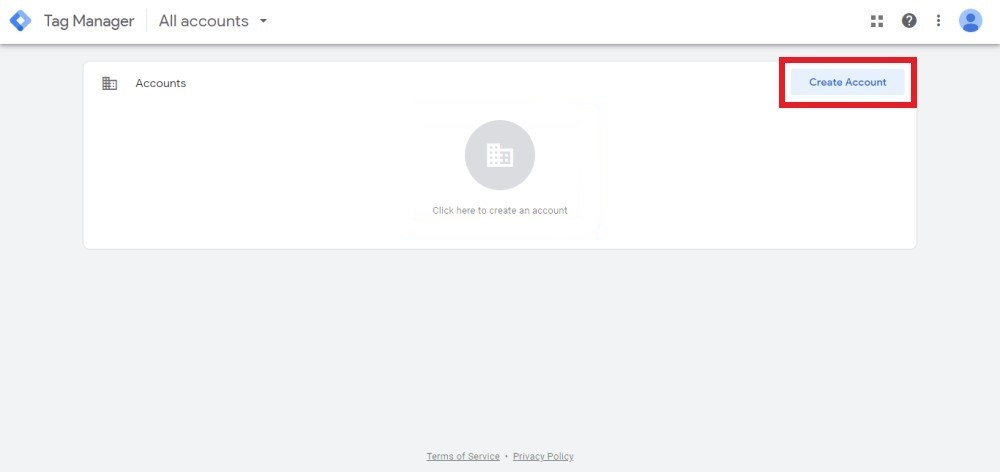 When you create an account, Google Tag Manager will automatically create a new container; however, you will need to create a name. We recommend you use the name of your website as the container name.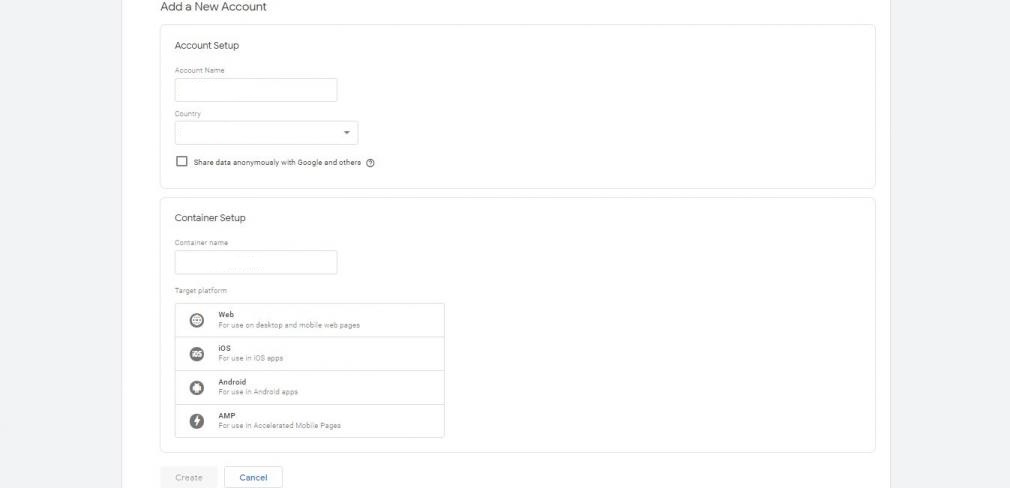 After working through the page and accepting Google's terms of service, you will see the container of code that you will need to add to your website. There are two main parts of this container, with instructions on where to place this code.  Referencing the image below, you can see that with the first section of JavaScript code, you want to place this as high in the <head> section of your page as possible. Additionally, with the second section of code, you will want to place this right after each page's opening <Body> tag. 
The HTML iframe content towards the bottom of the second section only needs to be used in certain events. More specifically, when those visiting your site have JavaScript disabled, this will ensure your tags still fire correctly.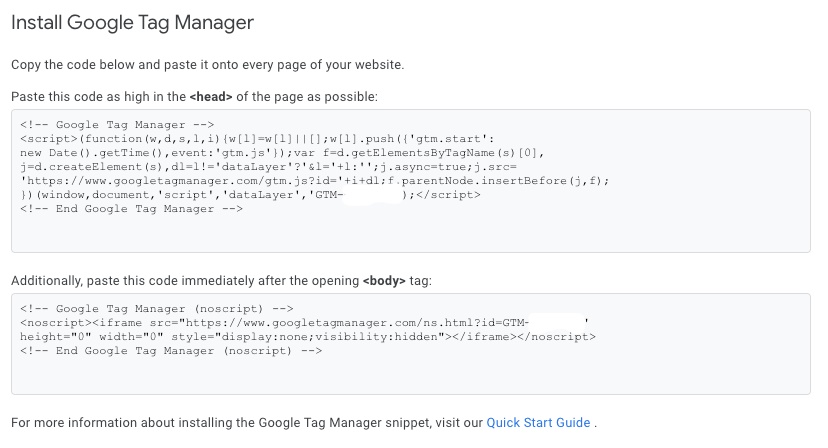 Once you have embedded this code into your website, you're ready to go, and you can start collecting valuable data for your home services business! This sounds complicated, but if you have access to the code of your website, it can be a quick process.  You can also follow these steps for more installation information.
If you don't have access to your website code, you can always send the code that Google Tag Manager gives you to your website manager, and they should have no problem installing it for you. 
Benefits of Using Google Tag Manager 
There are many benefits to using Google Tag Manager. Let's take a look at some of them: 
Detailed control over specific tags and range of triggers 
Increases the speed of your website if used correctly
Easy to use interface, allowing all of your team members the ability to update and create new tags without complex code changes
Easy to control past versions of your website, so you'll never lose data
Built-in tags to allow for integration with other analytics software such as Google Analytics 
Event tracking by targeting specific links or buttons on your website 
Learning how to use Google Tag Manager for your home services website can be a very involved process. You will always need to ensure your tags are up to date and add new tags continually. If you do not manage your Tag Manager properly, the code can lead to a slow website for your business and distort your analytics. Moreover, Google Tag Manager can be time-consuming to manage, and you need to ensure you utilize the platform correctly. Therefore, it may be beneficial to have a marketing company, such as ADHOME Marketing, set up and monitor your Google Tag Manager on your behalf to ensure you obtain the best results. 
Last Words
As a business owner, it's crucial for you to be able to track data accurately and be able to understand trends and gain accurate insights. Data can help inform your decisions as well as marketing arrangements. Using Google Tag Manager makes it easy for you to manage your marketing data without extensive coding or website experience and manage all of your tags within one cohesive platform that updates your website automatically. 
While Google Tag Manager is extremely valuable for your business, it does take work and dedication,  as well as an understanding of the platform. If you're looking for support using Google Tag Manager or need help with any other marketing, reach out to us. We're happy to help.