If you're in the home service industry you might not see the value in creating an Instagram account. For many owners, Instagram doesn't provide enough ROI compared to other advertising avenues such as Google ads or Facebook advertising. 
However, effectively using Instagram will give you an edge over your competition and complement your other marketing campaigns. Giving you a much more well-rounded digital presence. 
Instagram is quickly becoming the most-used social media platform, with the number of active users skyrocketing to over 800 million. With so many people actively using Instagram, there is more opportunity than ever to reach new customers. 
Plus, Instagram is a great way to engage with people who are first-time homeowners and create lifetime customers. Instagram's demographics target millennials (ages 24 to 39), which now and moving forward will be a large part of your customer base. 
Getting started on a new social media platform can feel overwhelming, but it's actually really easy to get started. We have created a simple guide that will walk you through the basics of setting up your account, what content you should be posting, and how to start engaging with your community. In no time you will be using Instagram like a pro.
How to Set Up An Instagram Profile
If you're not already set up on Instagram, don't worry, it is quick and easy to get going. To start, open up Instagram on your computer, or download the app on your phone. A page will appear with a form to fill out the required information:
Mobile phone number
Email address
Name
Username 
Password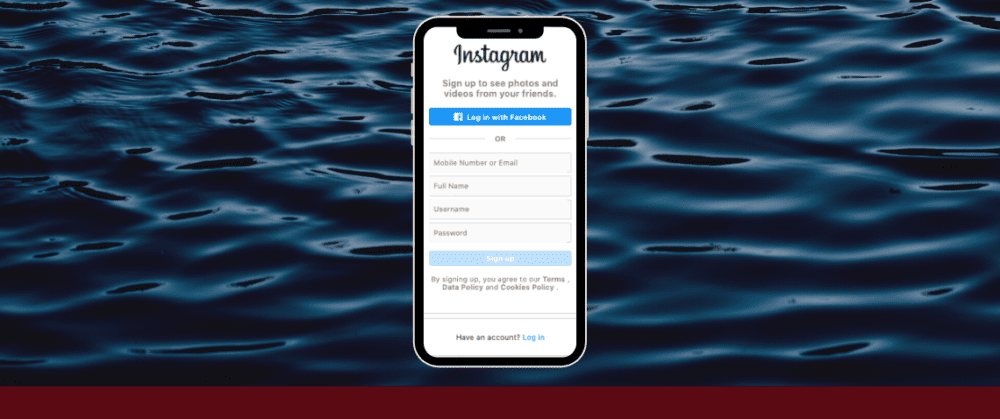 A few tips: 
For the email address, we recommend using one that would be easily accessible for multiple staff members such as a general business email (Example info@hvacguys.com ). This will save some potential confusion down the road. You'll thank us later. 
For the username, we recommend using one that is as close to your business name as possible. However, because Instagram only allows for unique usernames you may need to try a few different combinations. In order to get your Instagram username as close to your current practice name as possible, try experimenting with numbers, underscores, or including your city or town name.  
Let's say for example your business name is HVAC Guys if the name @hvacguys is taken here are a few examples on how you can tweak your name to still represent your business. 
@HVACguys1
@hvac_guys
@hvacguys_toronto
Now once you have filled out all the information, simply click the blue "sign-up" button to finish creating your account. You are now on Instagram.
What to Write in The Bio
The business's Instagram bio is the first thing your audience will see when they visit your page. Hitting the right note with your bio is important for establishing your brand, and attracting your target audience. People who visit your page will be making the decision to "follow" you based on what's included in your bio. 
The best bios capture people by offering them all the valuable information they need right away.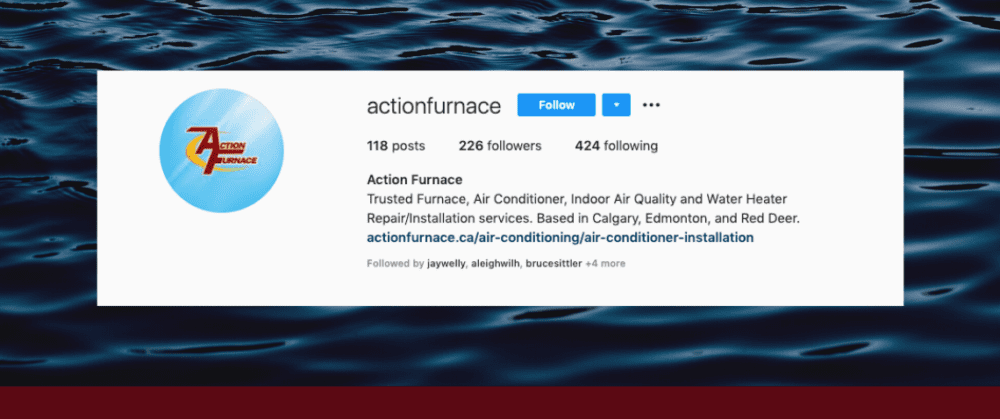 Ideas for what your bio can include: 
Business name 
Business tagline
Short description of your specialty 
Emojis (think: tools or anything relevant to your industry)
Contact information (phone number, email) 
Link to your website 
You're all set with a professional bio.
How To Set Up a Content Strategy
Now that you have an account set up, it's time to create a strategy for what you will be posting each week. Having a clear idea of the content will allow you to plan ahead and keep your brand voice consistent. 
To really get the most out of Instagram we recommend posting at least 3 times per week. Since the Instagram grid is a formation of 9. Posting at least 3 times per week will give your followers a full row of new content every week.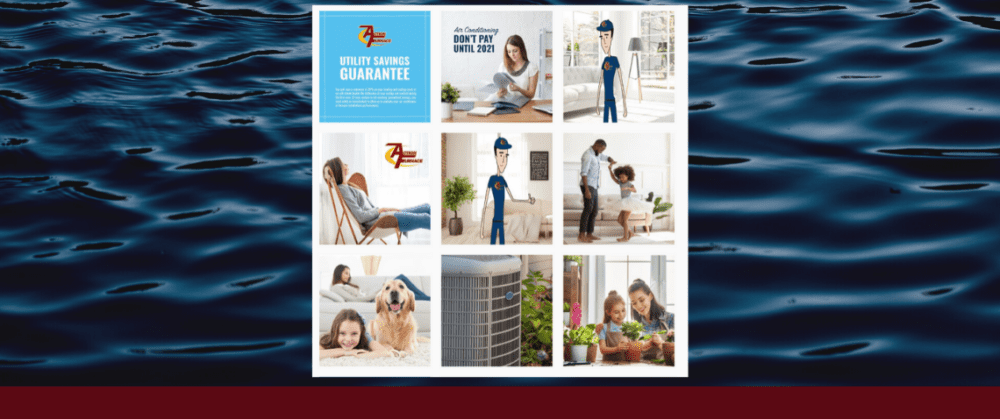 To effectively plan out content and keep your "grid" visually consistent we recommend creating what we call content pillars. Content Pillars are themes or topics that create the foundation of your content strategy. Each pillar represents a type of content that is relevant to your target audience.
An example for a home service business would be: 
Pillar 1: Home Care Education
Pillar 2: Staff Feature
Pillar 3: Promotional Content
We will walk you through an example using these pillars as they are widely applicable to many home service businesses.
Pillar 1: Home Care Education
This is a great opportunity to use your expertise to help followers! You can provide a variety of different tips people can implement to maintain their homes.
Like this post which talks about air ducts maintenance: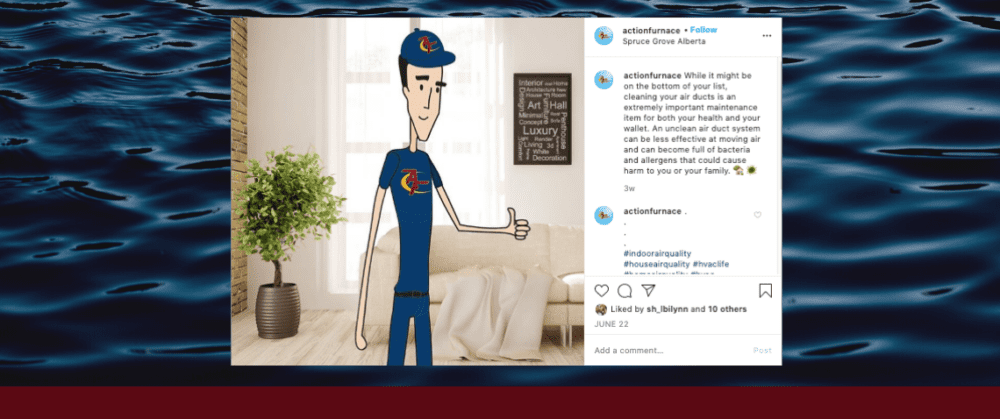 Pillar 2: Staff Feature
Showcase your staff and business personality. This pillar serves to deepen the connection with your followers and show who you are.
Like this video of a staff member thanking front line workers: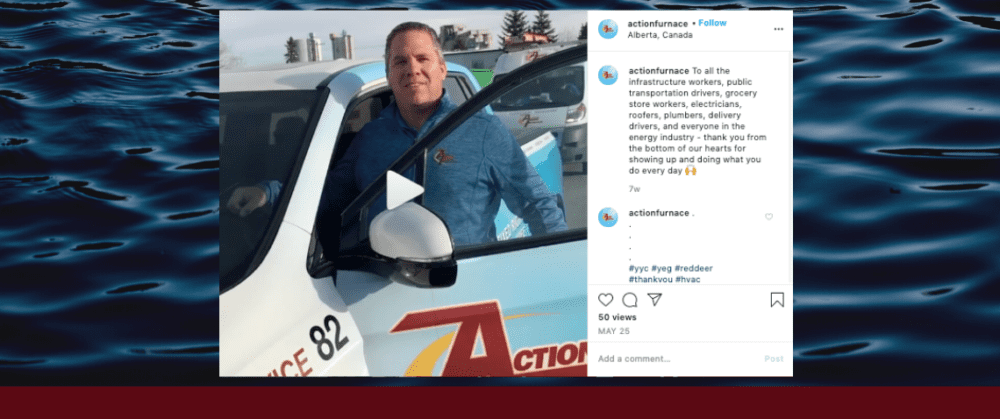 Pillar 3: Promotional Content
This is your opportunity to talk about the services you offer or any promotions you have going. 
Like this post about air conditioning: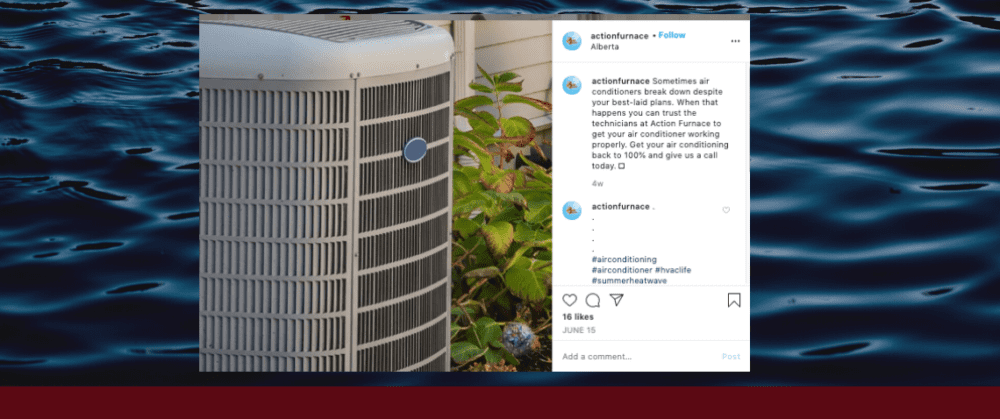 You don't need to stick to these exact content pillars. Choose whatever pillars you think will suit the business best. If there is something really unique to showcase from your business, go for it! 
Once you have established the pillars you can simply create content that fits into them each week. This allows followers to know what to expect and makes your life easier by having a formula to stick to. 
How to start engaging with your community
Engaging with people in your local community on Instagram is a great way to build your following and get new customers. But, where do you start?
Current Customers
You can ask people to follow your business on Instagram by including it within your current digital marketing. Try including the Instagram information at the bottom of any emails you send to your customer base. Or if you already have a following on Facebook let them know to follow you on Instagram as well. 
Also, don't forget to follow back the customers that currently follow the business page. You can occasionally "like" or comment on one of their recent photos. This will foster good relationships with customers and keep your business top of mind. Be sure to respond when people comment on your posts or tag your business.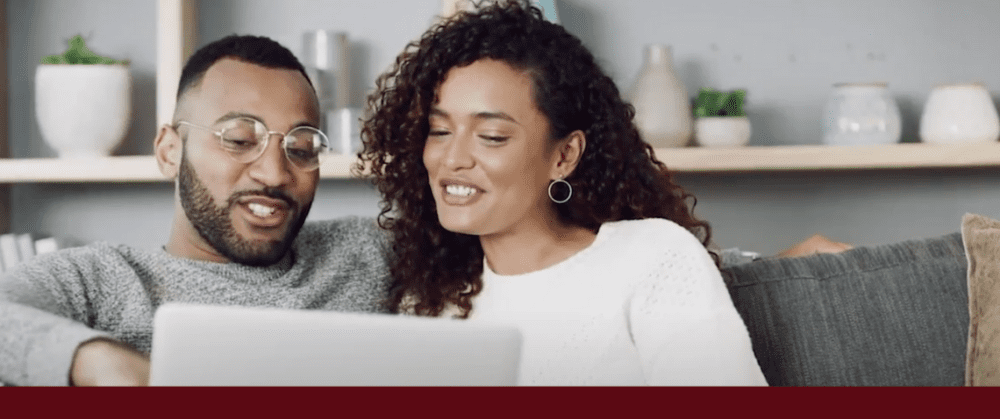 Getting New Followers
To gain new followers try following local businesses, doctors, artists, and restaurants. Then to take it a step further, follow some of their followers as they will likely be located within your community and could be a future customer. When people see that you have followed them they will get a notification and likely check out your page. If they like what they see they will follow you back. 
Use the right hashtags! Hashtags are pound signs(#) followed by a word or a phrase like #hvac or #furnacereapir. These help categorize content on the internet to make it easier for users to find. 
We recommend using hashtags specific to your area (#yyc or #ottawa) and hashtags targeted to the audience you want to attract (#airconditioner or #homecomforts). This will gain more user engagement on your Instagram posts. Using the right hashtags helps place content in front of the right eyes.
Last thoughts
Be aware that building a following on Instagram takes time! But setting up your account right and implementing some strategy will save you a lot of time and energy down the road. It is also important to keep in mind that a successful social media presence doesn't mean getting the most likes or gaining followers the quickest, it is about providing your audience with the information that is valuable to them. If you need help with setting up a social media strategy or simply would like to outsource social media to the experts, reach out to us! 
Last tip: If you are struggling to get your Instagram posts to look professional and polished try using Canva. This website has amazing templates and graphics that will really kick your posts up a notch!