Blogs are a great way to create content for your platform and are still very relevant. But, with progression in technology and capabilities with web design, they are no longer the only option. Blogs play a significant role in SEO when it comes to hitting keywords and backlinking, but you can also achieve this through other forms of content that can be more engaging. 
Content marketing is much bigger today than it was ten years ago. Keeping up with trends and developments can separate you from your competitors. Now that millennials are getting to the age of buying houses and needing home services, appealing to them is crucial. 
We've outlined the top ways (that aren't blogs!) to grab your audience's attention through content marketing. The top 3 that make our list are infographics, videos, and interactive quizzes.  
Let's dive a bit deeper into how each one can benefit your business.
Infographics
Infographics work so well because they are both eye-catching and capable of representing complex information in an easily digestible format. Not only will a viewer immediately be drawn in, but the information it contains is beneficial, making it easier for viewers to conceptualize the information displayed. If you have a service that has many steps, try representing it in an infographic. It will make it quick and easy for your viewer to understand the concept and see it's value. 
Infographics can also improve your branding by creating a modern feel on your website. If an infographic is well done and includes your brand styling and colours, it can make your website more unique and memorable. When used correctly, infographics can reduce the bounce rate of your website and retain the viewers for a more extended period.
Want an idea of how an infographic can work for on your website? Check out the HVAC infographic we made for Action Furnace.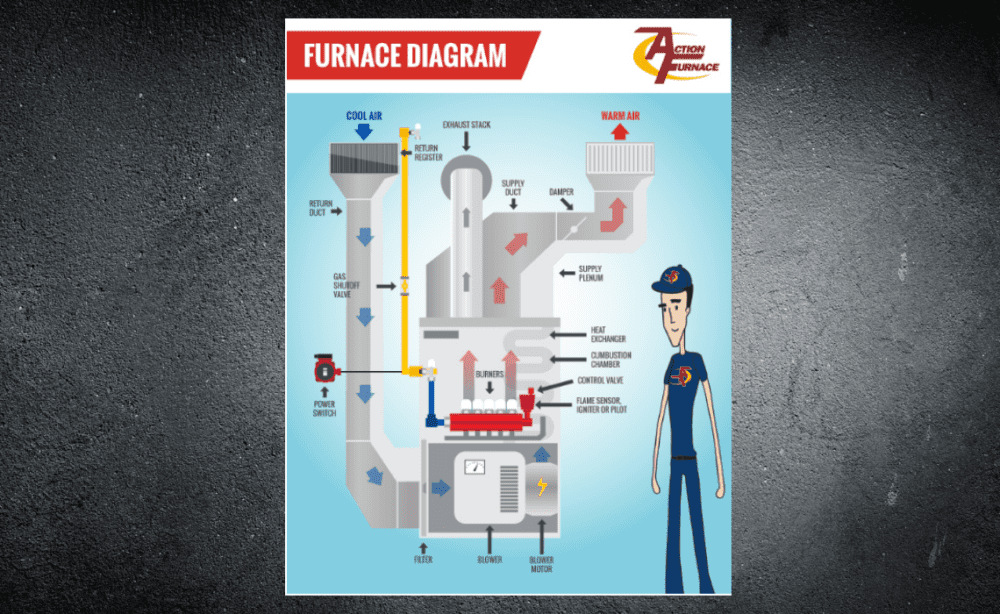 Videos
Videos are a great way to display a lot of content without needing to take up a lot of space. People who browse the web want things as easy as possible, so they likely will not read your website if they see a big chunk of text. Videos solve that problem for you; content can be displayed visually, through audio, and even text. It gives a much more streamlined way to deliver messages to your audience. For example, instead of having to explain the installation process of a drainage system through text and hoping they can visualize what you are trying to convey, you can use video. When customers are given visual cues through video, they have an excellent concept of what will happen when you arrive at their home.
Quick and concise videos for Instagram, Twitter, Tik Tok, and even Youtube can be advantageous. Establishing brands on these platforms can not only get your brand out to different demographic groups but also create reputable backlinks to boost your SEO score and improve your ranking with search engines.

Interactive Quizzes
Interactive quizzes can not only be visually appealing and increase viewer retention but can provide useful information for your business. Using interactive quizzes to gauge customer satisfaction or reviews on services can give you quick, immediate feedback.
Interactive quizzes personalize your business and give your website a sense of character. There are many online sources you can use to build a custom quiz, even google forms. We recommend keeping the questions relatively short; the longer you make it, the more people you will drop out without actually finishing it. Interactive quizzes are a great way to bring an exciting factor to your website while still providing beneficial information.
Not sure what type of questions to incorporate into your quiz?
 Plumbing Business: When do you know it's time to replace your pipes?

How old are the pipes in your home?
How many times in the last 2 years have you needed a plumber?
What material are your pipes made from?

 HVAC Business: When is it time to change your Furnace?

How old is your Furnace?
How many times have you had to call for service within the last 2 years?
Are you interested in saving money on your utilities?

Electrical Business: When do you know it's time to upgrade your electrical panel?

Are you constantly tripping your breakers?
Do you have use more electronics now than 2 years ago

Roofing Business - When do you know it's time to replace your asphalt shingles?

How old is your roof?
Do you have shingles falling off?
Do you have any shingles curling?
Conclusion
Content marketing is vital to improving your digital platform, and it's continually evolving. These are some of the premier tools to use to increase your area of influence in the digital world. But new options will continue to come out, so keep trying new things. Once you get your content marketing strategy working for your business, get ready to leave your competition in the dust.