In order to get results, you need to align your marketing with the way that people actually make buying decisions.
At ADHOME, we have seen businesses grow by 40% annually by following the concepts of a marketing funnel. Marketing funnels are nothing new. But the concept has stood the test of time because it takes into account the most valuable and basic principles of marketing. And you can do it for your business too, you just need the know-how. 
Someone might not be at the bottom of the sales funnel today. But make no mistake, your potential customers are deciding today who they're going to do business with. It's important that you consider all the stages of the marketing and sales funnel when building your strategy. 
Understand Your Customer
The first thing you need to know when planning your marketing funnel is that people don't make a buying decision when immediately exposed to marketing. This is especially true in the HVAC industry. People need time to think about big purchases to ensure they are making the right choice and are getting the most value for their money. 
When investing in HVAC services people are looking for a business to prove their credibility. Can you actually solve their problem? Do they see the benefits and value of your services? A marketing funnel is essentially taking your potential customers on a journey. Where you align all the right pieces for the customer so that they feel confident in your business.

Step 1: Awareness
The first step is of course awareness. In order for someone to buy from you, they need to know you exist. Someone in this stage is hearing about your brand for the first time. They are not necessarily in the buying cycle for your service, however, they may be soon. You should be marketing to these people so that when they are in the market for your service, they choose your company. 
An example of someone in this stage could be someone who is currently renting but plans to buy a home soon. In this stage, you are planting the seed so that when they do buy a home and need a new furnace, they are aware of your business. That customer will now be more likely to choose you as you have built up credibility and brand recognition.
How Can I Reach People In The Awareness Stage?
Facebook: storytelling ads 
YouTube: storytelling ads 
Community involvement 
Organic social media
And much more

 Step 2: Interest
The second stage is interest. This means that someone has seen your content and they are clicking to your website, possibly for the first time. Someone in this stage has indicated that they are curious about a service you offer and want to find out more. 
Now it is your website's job to convince them to read your content and take action. If your website has been designed well you the customer will be able to easily navigate the site, find the information they want, and become a lead. 
Someone in this stage likely won't be making a purchase yet, but hopefully, they fill out some type of form submission so that you can retarget them. If your website has been designed poorly they will be frustrated that they are unable to find what they are looking for and quickly click away to your competitor's website.
How Can I Reach People In The Interest Stage?
Website imagery
Headlines
Remarketing Ads
Facebook: CTA ads
Youtube: CTA ads
Google Display: CTA ads
Step 3: Consideration
Someone in this stage has decided to read about your business. They are either reading your service page, blogs, social media posts, or some sort of content about your business. They are likely gathering information about your business as well as a few others. 
So it's important that your content sets you apart from your competition. You want to make it informative, interesting and include a strong call to action. How effective you are at answering their questions and concerns the more likely you are to earn their business. 
How Can I Reach People In The Consideration Stage?
Website content
Blogs
Remarketing ads
These are the first 3 sections of a sales and marketing funnel. Once you have mastered these steps it's time to drive your potential customer to purchase. If you want to get the full HVAC marketing funnel complete with benchmarks, examples, and platforms we've laid it all out for you in our simple e-guide. 
Fill out the form below which will provide you with a free downloadable guide that will help you take the guesswork out of marketing funnels.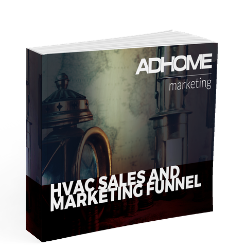 [activedemand_form id='84992']