For most HVAC businesses, shoulder season falls between the frigid weather of the winter and the smoking hot temperatures in the summer. Most people only think about their HVAC systems when the weather lives in the extremes. So businesses generally see a slow period in the spring from March-May and again in the fall from September-November. 
We often see clients who want to stop their advertising during slow periods altogether. But this isn't the best approach, not by a long shot. 
We're here to show you that marketing in the off-season can boost sales and profits for the next busy season. Plus, bring in some additional revenue in maintenance jobs. So, if that sounds good to you, keep reading. 
Why Market During Slow Season?
We get where you're coming from. Why spend ad budget when your customers don't have an immediate need for your services? But there are many reasons why running ads in the spring and fall will get you ahead.
Build Your Brand
Building your brand isn't achieved overnight. Or in one season! You need to establish a name for yourself in the HVAC industry continually. And once you've established some brand recognition, it's essential to maintain and grow your audience for future success. If you want continued success during your next peak season, implementing a shoulder season marketing strategy is key. 
Good marketing never sleeps.
Become Memorable
If someone's furnace fails when it's freezing cold or their air conditioner stops working when it is sweltering out, they don't have time to compare quotes and price shop. They will contact someone they trust and someone they have heard of. Someone they remember. 
Creating that type of memorability requires consistency in your marketing efforts. Therefore, your brand can't entirely fall off the map because it's off-season. The work you put into your marketing in the spring and fall will build your brand so that when someone's furnace fails in the dead of winter, your company's name is top of mind.
Get Ahead of The Competition
By marketing in shoulder season, you give yourself enough time to engage with your future customers. You can educate people on what your HVAC company offers and why you're better than your competition. 
Once peak season hits, you will have created a relationship with your potential customers. They will be familiar with the services you offer and have seen your brand. Your business will be strides ahead of the competition, which will be just waking up from slow-season hibernation.
What Should You Be Spending
We recommend staying consistent with your marketing spend across all seasons to get the best results. Yes, even during the off-season. 
As we mentioned earlier, shift away from lead generation campaigns and more towards creating brand awareness. Focusing on brand awareness will likely change the medium you are spending on (more on that later).  
Depending on whether you want to maintain or grow your business, a healthy marketing budget will vary between 5%-15% of your revenue.
Best Tactics for Shoulder Season
The major differentiating factor between on and off-season marketing will be the type of campaigns you will be running. As noted above, your slow season efforts should gear towards brand awareness. There are many ways to create customer recognition for your brand.
Get Social
Shoulder season is a great time to focus on growing your social media accounts. You can focus on creating engaging content and growing your following so that you will have a larger audience to speak to when peak season hits.

Run Brand Awareness Ads
You should still be running ads during shoulder season! These ads will shift to a branding campaign that will keep your company top of mind with your audience. See below for examples of a branding campaign.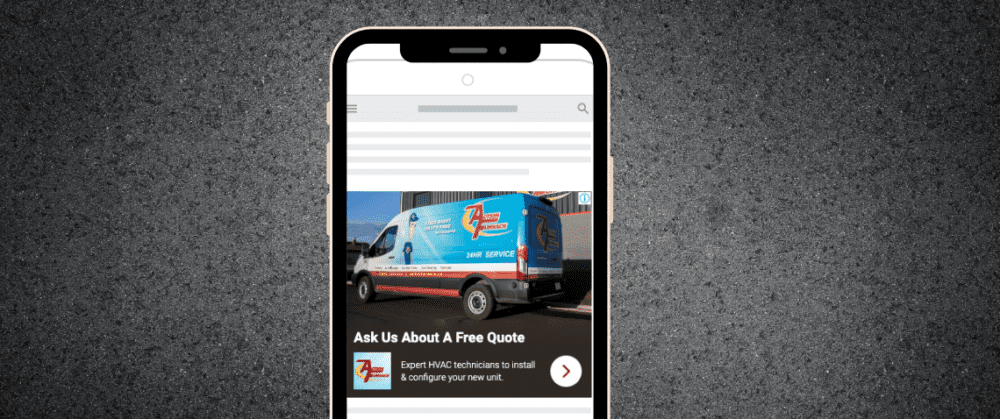 Focus On Maintenance Campaigns
To create revenue during shoulder season, you can also run maintenance campaigns. Focus on the money consumers will save by tuning up their HVAC systems before they cause problems in the winter or summer.
Customer Reviews
Shoulder season is the perfect time to focus on your customer reviews. You likely received many during peak-season you haven't had time to promote. We recommend blasting positive reviews EVERYWHERE! From your social media to your website, make sure you don't waste the potential of a good review. 
Reviews build trust with your potential customers and provide social proof that your company does a good job. Take the time to highlight them whenever you can. Responding to reviews is also very important. Especially the negative ones. Learn how to best manage your reviews here. 

Tend To Your Backlog
The off-season is the perfect time to tackle things you've been putting off, including cleaning up your database, revamping your website, boosting your social media profiles, and creating promotional emails.  
We recommend spending the time to set yourself up for success during peak season.
To Sum It Up
Marketing your HVAC business is a year-round gig. You will see much better results by simply shifting your spending to branding campaigns rather than turning off your ads altogether. We recommend putting the same budget into both efforts for maximum growth. 
If you want to talk to an expert on leveraging your marketing during shoulder season, reach out to us. We're always here to help, no matter what season